FrontPage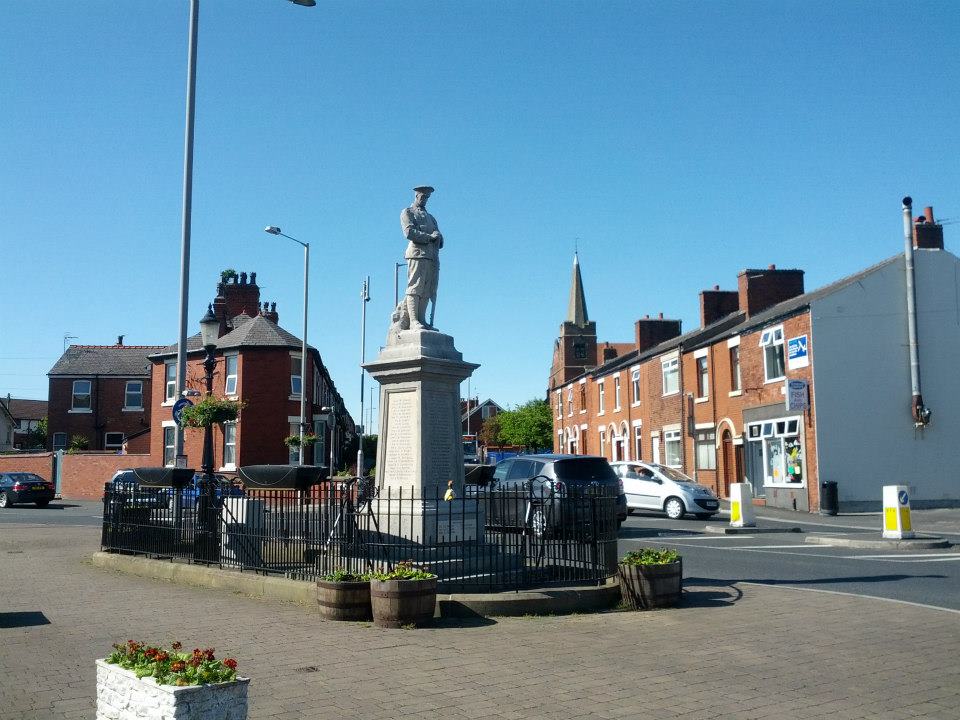 Welcome to Wesham
Local Wesham images and History
Historically the village of Wesham is reputed to have come to the Hospitallers of St. John of Jerusalem by the gift of Cicely, daughter of Roger de Gernet. Pronounced 'Wesh ham', it was subsequently given by the Lancasters to the Abbey of Cockersand. On the Dissolution of the Monasteries, the land seems to have been granted or sold to the family of Westby. In the reign of Philip and Mary, William Westbye held "Medlarghe," "Wessham," and other property in the area, and his descendants long continued to reside at what was Mowbreck Hall, now lost. Bradkirk, in the township, was owned as a manor in the reign of Edward III by a family of the same name, and was their residence for centuries. The estate later became the property of Hugh Hornby, Esq., of Ribby Hall, by purchase from a Mr. Kearsley.— A Topographical Dictionary of England, 1848[3]
The area within the boundaries of the parish have been populated since early medieval times, prior to the Norman conquest, with separate settlements at Bradkirk, Medlar, Wesham and Mowbreck. There was also a single moated farmstead at Pasture Barn midway between Medlar and Mowbreck. The present bridleway of Mowbreck Lane was the medieval route to Treales.[4]
The modern town of Wesham is only about 160 years old, and developed as the railway expanded to serve the growing popularity of resort towns such as Blackpool. From the 1920s to the 1950s huge numbers of steam trains plied their way to the coast via the railway station at Kirkham and Wesham.
Situated to the north of the railway station, from 1⁄2 to 2 1⁄2 miles (1 to 4 km) north of Kirkham, in 1870–72 it had an area of 1,971 acres (798 ha) and property worth £3,441. The population in 1851 was 170 but by 1861 was 563. The increase of population arose largely from additional employment in cotton mills. At that time the manor of Wesham, with Mowbreck Hall, belonged to J. T. Fazakerley-Westby. The hall was a fine edifice of red brick, castellated with stone and contained a domestic Roman Catholic chapel. It was once reputed to be haunted and had at one time been used as a Catholic school, one of whose pupils was Bible scholar George Leo Haydock.
A large school, used also as a lecture hall, belonging to the Independents, was built at Wesham in 1864 and opened in 1866.[5] The premises is now the showroom for Salisburys Electricals.
A large new workhouse, to replace the much older one in Kirkham, was erected between 1903 and 1907, designed on a pavilion plan by Charles S. Haywood and Fred Harrison. Modern for its time, separate pavilions were provided for mothers and infants, and for infirm females, and also a two-roomed cottage for married couples. The heating and hot water were worked from a central station, under the control of the resident engineer, and with rotary pumps to assist circulation. The buildings were faced with Accrington red-pressed bricks, and stone dressings, the work being carried out by Sam Wilson of Lytham St. Annes. During the First World War the buildings were used as a military hospital and later became Wesham Park Hospital, a specialist geriatric and psychiatric institution). The buildings which remain today are now the administrative home to North Lancashire NHS Trust, with the remainder becoming a much needed brownfield site for the "Willowfields" housing development.
The boundaries of Wesham were established over 100 years ago and did not change until local government changes in 1935 meant that 82 acres (33 ha) and 48 residents were transferred to Kirkham. Kirkham lost only 8 acres (3.2 ha) of land, but with no loss of residents.